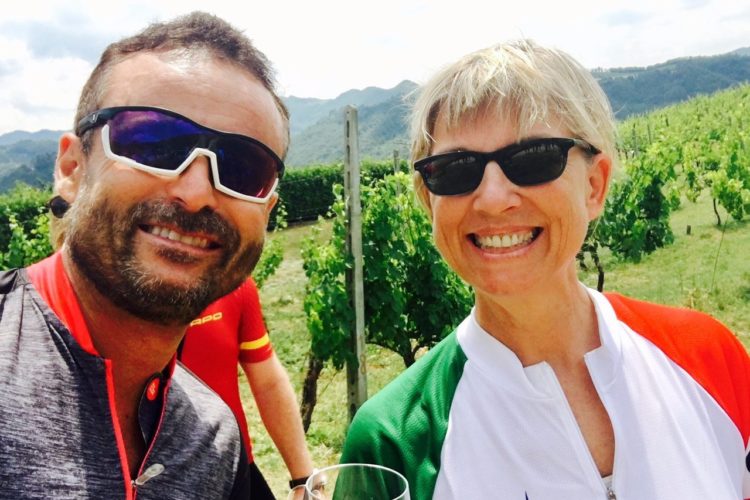 Face to face with the famous USA Chef Mary Sue: "Emilia Romagna? I cant' wait to come back again"
We had a great together time during the latest Chef Bike Tour USA by Tourissimo with the cooperation of Apt Servizi Emilia Romagna & Terrabici.  Flattered to join and ride on the Emilia Romagna's routes with the famous Chef from Los Angeles Mary Sue Milliken, a great career and appreciate skills in the Usa Chef's environment, many awards and recognitions, but especially a very nice person, always available with everyone and a nice feeling with cycling & food …a great combination as she says in my short interview for @CyclingNotes 🙂
What do you think about Emilia Romagna's region  ?
"The food is fabulous in Emilia Romagna.  By cycling through it, I got to see literally hundreds of fields growing food.  I saw everything from cherries to sugar beets, wheat to artichokes – and the sunflowers were incredible."
What the best highlight did you appreciate?
"I loved making pasta at the cooking school.  It was so nice to get my hands dirty and cook with the products that we had seen growing along the path.  But a close second was the path through the pine forest that was so breathtaking, no one said a word."
Do you think wine/food & cycling is a good combination?
"Awesome combination!  You can eat as much as you like because you're going to burn calories, and no better place to ride than Italy where the drivers are so courteous."
Do the US customers & cyclists know Emilia Romagna or do we get better in marketing & communication actions in the states 
"I would say Emilia Romagna is not a particularly well known region to Americans.  It seems to me that a lot could be done to promote the region as a vacation destination especially because so much of the finest food products associated with Italy come from Emilia Romagna."
Are you gonna come back next years in other Chef Bike Tours by @Tourissimo ? 
"Absolutely! I can't wait! See you soon! "