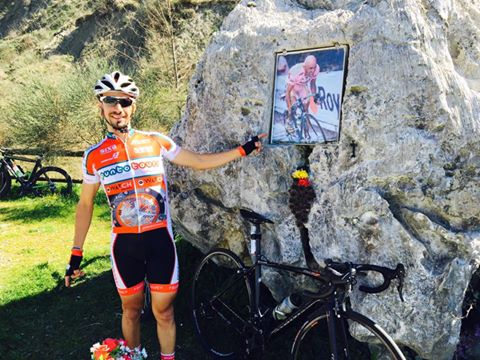 Cycling in Emilia Romagna is cool!
Cycling in Emilia Romagna: A wealth of opportunities for cycling enthusiasts in this Italian region renowned worldwide for history, art, traditions, food and wine treasures, fascinating itineraries between the Adriatic Sea and the hills, and great cycling champions of the past and present
Emilia Romagna Cycling, a region with a strong identity based on the warm and welcoming character of its people, boasts among its "pearls" unique art cities lined up along the Via Emilia (historical Roman road). Cycling in Emilia Romagna means breathing the history of unique UNESCO world heritage sites, discovering ancient routes between fortresses, castles and abbeys leading through valleys, open plains and forests that are centenaries old, through parks and pine forests, criss-crossing hills or following the magnificent coastline. Cycling in Emilia Romagna is a unique experience due to the unique traditions of this region and the wonderful synergies between culture, scenery and excellent food and wine products.
Emilia Romagna Cycling can offer great opportunities – the whole year round – for all tourists who choose cycling holidays: beautiful itineraries (with various levels of difficulty) and delicious wine and food tasting stops. Carefully planned routes allow cycling tourists to discover nature parks and reserves of great beauty recalling a huge green oasis. In total, there are 8,000 kilometres of cycling routes on roads, cycle paths and off road tracks for bike and mountain bike enthusiasts. They are low traffic routes covering the nine provinces of the region: many are signposted, others can be identified with the help of a GPS navigation system, guides or detailed maps. They vary in distance, elevation gain and gradient and are suitable for three different types of cyclists: dedicated cyclists who practice cycling as a sport, leisure cyclists who like to go on excursions by bike and the mountain bike lovers.
Emilia Romagna Cycling is famous for its cycling champions, ranging from the unforgettable Marco Pantani, known as 'Il Pirata' because of his shaved head and the bandana and earrings he always wore, to the new coach of the Italian national cycling team, Davide Cassani. As authentic "Romagnolo" (man from Romagna) his adventure in the world of cycling started exactly on the cycling trails of this region: kilometre after kilometre he pedalled to success until finally becoming the head coach of the Italian national team.
Great cycling events and marathons, first and foremost: the "Nove Colli" (Nine Hills' competition) – Thousands of cycling enthusiasts arrive each year in Emilia Romagna. To make them happy, clubs and cycle tourism associations organise bike outings and group rides. But the main attraction is the vast programme of events and enticing competitions. Many of them draw a crowd of national and international participants and have converted Emilia Romagna into a major pole of attraction for thousands of cycling enthusiasts. Amateur and professional cyclists who want to race are spoilt for choice: First of all, the "Nove Colli", the Nine Hills' competition, with starting point at Cesenatico (www.novecolli.it) that attracted 12,000 participants in 2015 (and thousands of fans). In 2017 it will be held on Sunday 21th May confirming its status as most popular cycle tourism event. There are 2 different routes: the longer one of 200 km for the fittest cyclists and the shorter of 130 km. As in previous years cyclists from all over the world are expected. Another classical race that attracts thousands of cyclists every year is the "Dieci Colli" (www.diecicolli.it) that will be held in Bologna on 1st May. One of the first important events at the start of the cycle tourism season is the "Gran Fondo Selle Italia – La via del sale" (april 2th 2017) , with 4,500 registered participants to be expected this year www.selleitalia.it. Here the long route (150 km) includes 4 climbing stretches and an elevation gain of 1,300 m with the most spectacular and challenging part being the "Cima Pantani di Montevecchio" and afterwards the downhill ride to the waterfront of Cervia. Reconfirmed for the same race are also the 3 other routes: the medium distance route of 107 km, the short one of 77 km for cycle tourists and the not-to-be-missed "bicycle ride for gourmets" of 40 km across flat terrain with delicious food and wine tasting stops. Another nice ride is the "Gran Fondo degli Squali di Cattolica" (Gran Fondo to the Sharks of Cattolica) (http://www.granfondosquali.it/) scheduled on may 14th 2017.
Bike Hotels, hospitality and warm welcome combined with efficiency – In Emilia Romagna a great number of special Bike Hotels and some other 200 hotels offer tailor-made services to cycling tourists. The quality of these hotels and their extraordinary organisation are indeed the best guarantee. The special "bike" services include bicycle rental and storage, technical assistance, and everything for the wellbeing of the cyclist, from massages to customised meals. Furthermore, the hotels organise daily bike outings with "guides" that will allow cycling tourists to discover the beautiful scenery of the hinterland and the spectacular uphill rides or provide them with itineraries on GPS systems and maps.
Terrabici, a new regional consortium dedicated to the world of cycling – The tour operators in Emilia Romagna specialised in cycle tourism have recently founded "Terrabici", a regional consortium (currently 43 hotels), a product club dedicated to offering all kinds of bike tourism services. "Terrabici" has the task to promote the bike destinations of Emilia Romagna on an international level by presenting a unique offer for a continuously growing cycle tourism demand (www.terrabici.com).
The positive trend is confirmed by statistical data: in 2013 in Emilia Romagna – the second most important region of Italy after Trentino Alto Adige in terms of quantity of cycle tourists – 300,000 arrivals of bike tourists have been registered resulting in a total of approximately 1.4 million tourist stays. 85 % of these tourists come from abroad (mainly from Germany, Benelux, Austria, United Kingdom, Switzerland, France, USA, Scandinavia, Canada, Australia) and find accommodation in the 300 specialised regional hotels. The consortium is a breakthrough novelty for Italy as it is the first product club uniting operators of all sectors interested in this tourism market segment.
The Apennines by Mountain Bike – The Emilia Romagna part of the Apennine Mountains offers mountain bikers and cycle excursionists a great range of choice when it comes to active itineraries and destinations. Many tour operators belonging to the product promotion association "Appennino e Verde" (Apennines & Nature) present sport events and special accommodation packages for MTB enthusiasts. In summer, many of them enjoy rushing down the trails of the "Cimone Bike Park" in the province of Modena, using the ski lifts equipped with a bicycle rack to take them back to the top. The Bike Park is open from May till September and even on weekends in October or even later, weather conditions permitting. The Bike Park area on Mount Cimone boasts various downhill trails built by MTB freaks with wooden boardwalks, bridges and ramps for jumps. The park also includes playgrounds for kids and areas for mountain bike courses in total safety (www.mtbappennino.it). In another part of the Apennines near Rimini, a great new MTB park has been created at Maiolo: the "Valmarecchia Bike Park". It is the first completely "smart" bike park in Italy. It covers an area of approx. 15,000 m2 and offers MTB fans a breathtaking "downhill" trail (1,500 metres), an Enduro track and – thanks to the "powerline" technology – even an intelligent illumination by night (https://www.facebook.com/Bikeparkvalmarecchia).
Slow Bike and interregional itineraries – To provide optimal promotion for the urban itineraries allowing to visit the historical towns of the Emilia Romagna region by bicycle and to discover their great artistic, cultural and culinary heritage, the product promotion association "Città d'Arte, Cultura e Affari" in collaboration with APT Servizi Emilia Romagna (the Emilia Romagna Tourist Board) has produced a brochure of 32 pages with the title "Vacanza bike tra i colori dell'arte" (Cycling holidays among the colours of art) which can be downloaded (in Italian language) as pdf file from the website (http://www.cittadarte.emilia-romagna.it). In this brochure bike lovers can find interesting ideas for great outdoors holidays with many curiosities. The brochure suggests 20 itineraries for bike rides through beautiful landscapes and unique historical town centres combined with unforgettably delicious food and wine tasting stops. The most popular Slow Bike itineraries are the ones leading through the vast area of the Po River Valley with its fascinating delta. Excellent alternatives are the interregional itineraries: the Coast-to-Coast route divided into various stages linking the Adriatic Sea to the Tyrrhenian Sea and passing through great part of Emilia Romagna and Tuscany; the Garda Lake-Coast route with starting point at Ferrara and arrival at the beautiful Garda Lake; the Adria Bike route from Ravenna to wonderful Venice; and the art and history route in the footsteps of the famous Italian painter Piero della Francesca (early Renaissance period) leading from Rimini to Urbino in the Marche region.
Top position among Italian regions for bike path network – Emilia Romagna also stands out for its attention to eco-friendly itineraries and the promotion of European initiatives related to cycling tourism. Thus, it boasts an extensive network of bike paths. According to a study on sustainable mobility in the 50 most important towns in Italy, Emilia Romagna holds the top position among the Italian regions in terms of distribution of bike paths in its 8 major towns ranking among the best. The absolute top is the town of Reggio Emilia with 10 km of "green" itineraries per 10,000 inhabitants. Followed by Ferrara and Modena with 9 km. There are 6 town centres where, in addition, an increase in streets reserved exclusively to bicycles can be observed: Modena, Ferrara Ravenna, Parma, Bologna and Rimini. A unique experience for all cycling enthusiasts not to be missed is the "Destra Po", the 120 km cycle route on the right bank of the Po river winding its way from the westernmost fringe of the province of Ferrara to the East with its beautiful scenery of the Delta and the sea, passing through a territory of great beauty and cultural value.
Info: Apt Servizi Emilia Romagna Tourist Board Andrea Manusia
(Project Leader Cycling Marketing Dept)
Tel. (+39) 0541-430.122 – cycling@aptservizi.com www.facebook.com/CyclingEmiliaRomagna
www.aptservizi.com