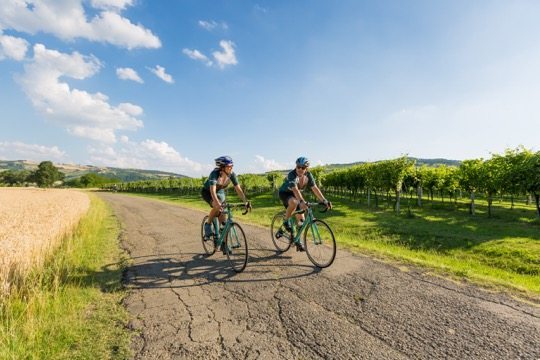 Tourissimo – Emilia Romagna chef tour 2017
TOURISSIMO ANNOUNCES EXCLUSIVE EMILIA ROMAGNA CHEF BIKE TOUR
Introducing an Exciting New Way to Actively Experience Italy's Heart of Home Food
FEBRUARY 07, 2017 – Tourissimo, the ultimate insider expert in Italian soft adventure tourism, recently announced an exclusive special edition five-night culinary biking tour June 14-19, 2017. Active adventurers will discover the apex of Italian Home Food with The Emilia Romagna Chef Tour, a gastronomic discovery through the region with a specially crafted itinerary showcasing Emilia Romagna's history, culture, landscape, and climate. Rates start at USD$3,495 per person for double occupancy and are fully inclusive except for flights. Bianchi carbon road bikes with GPS navigation are included as well as all pre and post tour transfers.
For additional information and reservations visit www.tourissimo.travel or call (857) 997-0051.
Tour highlights include:
–       Ferrara, City of Renaissance
–       Po River Delta and lagoon
–       The "Food and Wine Trail" hills of Forli and Cesena
–       Pellegrino Artusi Restaurant/Museum with cooking workshop
–       Gold sandy beaches of Rimini
–       Thermal waters of Fratta Terme and Bagno di Romagna
–       Two UNESCO Heritage sites
–       The Al Meni Festival (Michelin-star street food)
On the Emilia Romagna Chef Tour you will sample local delicacies, including lesser know wines, and visit historic hilltop towns as above, venturing through the waterways and wetlands of the Po Delta and riding to the stunning historical town of Ravenna and on the Apennines, before descending for a grand finale event that pays homage to Federico Fellini, Italy's most famous film director and screenwriter. This trip departs from Ferrara (UNESCO site) and ends in Rimini, a resort town on the Adriatic. The price includes accommodation, all meals with wine, a hands-on cooking class at Casa Artusi (the father of gastronomy), visits to winemakers, cheesemakers and more. The tour's grand finale includes the "Al Meni", a street food festival that brings together Chef Massimo Bottura with the best chefs from the region, and inarguably, the most 'Michelin star hands' in the kitchen.  The riding is a superb mix of landscapes incorporating the flat plains of the Po River delta and the Comacchio Valley. The rides are fully supported and participants can ride just part of the stage. Companions that are non-riders are also welcome.
About the Chefs
Guests will ride along with notable American and Italian chefs and food critics including Chef Mary Sue Milliken, Chef Ben Cohn and Chef Travis Flood, to name a few. Co-Chef and Owner of Border Grill Restaurants in Las Vegas, Los Angeles, Los Angeles International Airport and The Huntington Library, Chef Mary Sue Milliken is most notably recognized as a preeminent ambassador of modern Mexican cuisine and has co-authored five cookbooks, co-starred in nearly 400 episodes of the Food Network's "Too Hot Tamales" and co-hosted a food centered radio show for over a decade in Los Angeles. The Executive Chef of Westside Tavern in West Los Angeles, Chef Ben Cohn hailed from Spruce in San Francisco where he was the Executive Chef and led the restaurant to their first Michelin Star, as well as prominent accolades from Wine Spectator, The San Francisco Chronicle, and Esquire Magazine. He is a strong supporter of local farms and continues his commitment to using local market driven ingredients in his daily menus.  A native of Southern California, Flood is at the helm of Pappas' artisanal culinary adventures.  For more than 20 years, Chef Flood has been working in local mom and pop restaurants to Michelin starred fine-dining and modern California eateries.  He is an ardent proponent of organic and sustainable ingredients and believes farms and seasons should determine a restaurant's menu.
About Tourissimo
Founded in 2015 by Beppe Salerno, Tourissimo designs and runs active vacations in Italy, providing turnkey, fully supported programs primarily serving small (8-14pp) private groups through outbound tour operators, travel agents, and private organizations, such as cycling clubs and affinity groups. All tours are designed to provide extraordinary educational hiking and bicycling experiences in geographical areas where Tourissimo has outstanding expertise. These carefully crafted programs are active immersions into local culture and delicious cuisine for energetic, highly curious, young-at-heart travelers of all abilities who love the outdoors and seek fun, educational experiences with like-minded travelers. The Tourissimo guest seeks to go beyond the surface of a place, to learn and grow from their travel experience.
MEDIA CONTACTS:
NLPR | Nina Lora or Katherine Han | info@ninalorapr.com | Tel: +1.727.543.2944